Yugo between shame and pride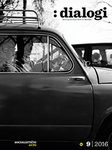 In 2016 Dan Podjed published a scientific article in Dialogi journal on Yugo car, manufactured by Zastava company. As the article shows, the Yugo was not and did not remain merely a car fort he masses as it was designed in the former Yugoslavia but it was transformed into a sports car, an instrument for showing off, and a material artefact for arousing feeling of nostalgia.
Additional information at Aristej publishing house website.