Smart mobility in smart cities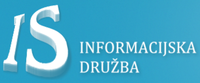 18th international multiconference 'Information Society – IS 2015' featured a workshop on smart cities and communities as a development opportunity for Slovenia. The workshop, held in October 2015, involved a paper 'UL-FE, LMMFE/LTFE: Smart Media for Smart Cities', co-authored by the DriveGreen team members Jože Guna and Matevž Pogačnik. The paper presents the vision, expertise and areas of interest with relevant project and scientific references of the University of Ljubljana, Faculty of Electrical Engineering's Laboratory for Telecommunications (LTFE) and Laboratory for Multimedia (LMMFE) in the area of smart media for smart cities and communities. The paper emphasises relevance of applications in the field of smart mobility and transport, i.e. the main theme of the DriveGreen project.
Link to the paper (pp. 64-67).