Mother trucker, we're stuck again!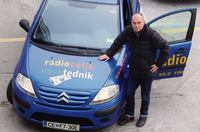 Novi Tednik, the main newspaper of Celje, presented a professional career of DriveGreen's principal investigator Dan Podjed. It highlighted the main research findings, and emphasised challenges in development of the forthcoming smartphone app for promotion of sustainable mobility in cities. As it is mentioned in the article, our emotions also significantly influence our driving habits and mobility practices. (Photo: SHERPA.)
Link to the article: part 1, part 2.