Connected and increasingly lonely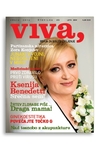 "Already during the development of technologies, we must bear in mind the community building, instead of supporting further individualisation," explained DriveGreen's Principal Investigator Dan Podjed in an article, published in Viva magazine. In his opinion, it is important that anthropologists, psychologists and sociologists are involved in development of new IT solutions, since the social scientists will be able to predict how the use of technologies might change society. As Podjed mentioned in the article, this approach was used in the development of the '1, 2, 3' smartphone app, which is the main result of the DriveGreen project.
Link to the article (in Slovenian).