Why the World Needs Anthropologists 2016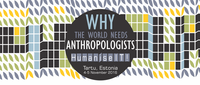 On 4 and 5 November, 2016, Europe's biggest meeting of applied anthropologists 'Why the World Needs Anthropologists' with a thematic subtitle 'Humanise IT!' took place in Tartu, Estonia. Over 350 participants from 20 countries attended the event and enjoyed excellent speeches and inspiring workshops – including the one organised by the 'DriveGreen' project.
The aim of the fourth symposium was to introduce possibilities for the cooperation between IT-companies and the humanities, and to offer various technological and humanitarian solutions. The event explored how IT engineers and anthropologists can benefit from each other's knowledge and approaches, how can technology-based thinking be humanised, and how can people get the most out of new technologies.
Keynote speakers at the symposium were Sten Tamkivi, the founder of Teleport and long-time CEO at Skype, Melissa Cefkin, an anthropologist working for the Nissan corporation and developer of autonomous vehicles, Daniel Miller, professor of anthropology at the University College London and an expert on digital media, and Dimitris Dalakoglou, professor of social anthropology at the VU University Amsterdam. Dan Podjed, EASA Applied Anthropology Network convenor and DriveGreen's principal investigator, moderated the panel discussion with the four speakers at the end of the first day of the event.
On the second day of the event Dan Podjed carried out a workshop (one out of five), entitled 'Start Your Own Interdisciplinary Project', which provided recommendations to participants who intended to apply for interdisciplinary research and development projects and gave tips on cooperation and leadership in teams consisting of people from various disciplines and operating in and outside academia. The 'DriveGreen project', where engineers and anthropologists in cooperation with an industry partner are developing the '1, 2, 3' smartphone app for the promotion of sustainable mobility, was used as an example to illustrate how an interdisciplinary project proposal can be prepared, how the specific management challenges can be met, and how the planned development goals can be reached. (Photo: Aivo Pölluäär)
---
News archive