Technologies of mobility between engineering and humanities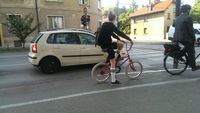 A scientific symposium Technologies of Mobility between Engineering and Humanities will be held on Friday, 9 June 2017, from 9 am to 1 pm at the University of Ljubljana's Faculty of Electical Engineering. The symposium is a result of the DriveGreen project.
The symposium will be held in Slovenian language. However, the keynote speech will be given in English by Shadi Abou-Zahra from the World Wide Web Consortium. His presentation, titled Mobile Web Accessibility Design and Development, will explain how can we ensure an optimal user experience, including for people with disabilities. Participants will be able to find out more about the current work of the World Wide Web Consortium (W3C) on the Web Content Accessibility Guidelines (WCAG) 2.1, and the future 3.0 version, with particular emphasis on mobile accessibility improvements.
This symposium is a result of the project DriveGreen: Development of an Ecodriving Application for a Transition to a Low-Carbon Society (L7-6858). The project was financially supported by the Slovenian Research Agency.
---
News archive