Sustainable mobility in Madrid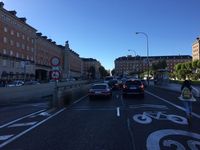 From 27 to 30 September, 2016, the DriveGreen project team carried out a rapid assessment of sustainable mobility habits in Madrid, Spain.
The assesment showed that the city of Madrid has well established cycling lanes and other infrastructure for supporting sustainable mobility. Unfortunately, many people still use passenger cars, which cause traffic congestions in the busiest parts of the day (photo: DriveGreen).
---
News archive