Smartphone app '1, 2, 3 Ljubljana' presented at the ERK 2016 in Portorož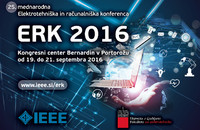 The Android-based smartphone app '1, 2, 3 Ljubljana' was presented at the 25th International Electrotechnical and Computer Science Conference ERK 2016, which was held from 19 to 21 September, 2016, in Portorož, Slovenia.
The conference was hosted by the IEEE Slovenia's section. The Laboratory for Telecommunications' team, based at the University of Ljubljana's Faculty of Electrical Engineering, presented a paper, entitled 'Designing an Application for the Promotion of Sustainable Mobility in Urban Centres – DriveGreen project', which highlighted designing processes in development of the smartphone app (photo: DriveGreen).
---
News archive